Special Slow - Cooked Beef
"This hearty entree is easy to prepare for Sunday dinner. While the beef is slow cooking, the cook has lots of time to attend to the other details. With mashed potatoes on the side, it's comfort food for the cool months ahead." —Juli George, Grandville, Michigan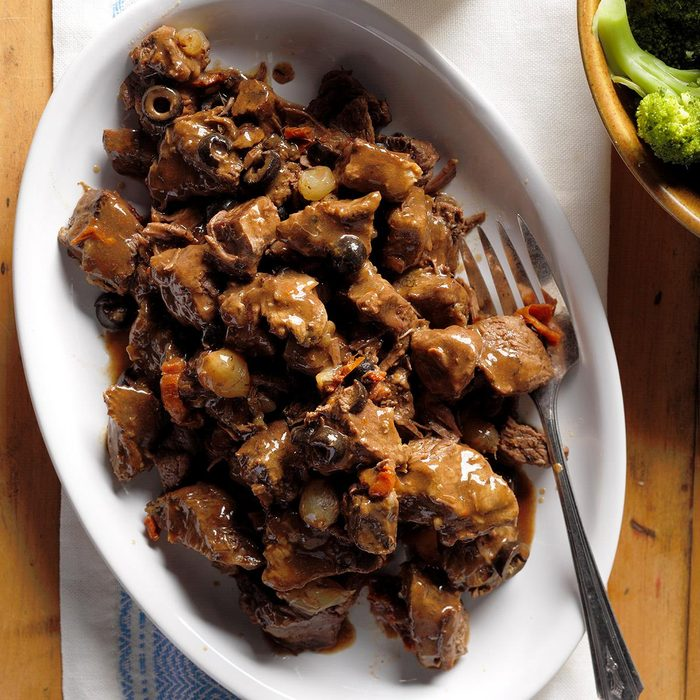 Ingredients
| | |
| --- | --- |
| 1 boneless beef chuck roast (3 pounds), cubed | 1/3 cup oil-packed sun-dried tomatoes, drained and chopped |
| 1 tablespoon canola oil | 1 cup beef broth |
| 1 tablespoon Italian seasoning | 1/2 cup fresh pearl onions, peeled |
| 1 teaspoon salt | 1 tablespoon cornstarch |
| 1 garlic clove, minced | 2 tablespoons cold water |
| 1/2 cup sliced ripe olives, drained | |
Directions
In a large skillet, brown meat in oil in batches; drain. Transfer to a 5-qt. slow cooker. Sprinkle with Italian seasoning, salt and garlic; top with olives and tomatoes. Add broth and onions. Cook, covered, on low 6-8 hours or until meat is tender.
With a slotted spoon, remove beef and onions to a serving platter and keep warm. Pour cooking juices into a small saucepan; skim fat.
Combine cornstarch and water until smooth; gradually stir into cooking juices. Bring to a boil; cook and stir until thickened, about 2 minutes. Spoon over beef mixture.
Nutrition Fact's
1 serving: 332 calories, 20g fat (7g saturated fat), 111mg cholesterol, 551mg sodium, 3g carbohydrate (0 sugars, 1g fiber), 34g protein.