How to Cook Steak Like a Chef!
Here's how to cook steak like a chef – pan seared and basted with garlic thyme butter! It's dramatic, simple cooking at its best, you'll look like a total pro and feel like you're dining at the best steakhouse in town…..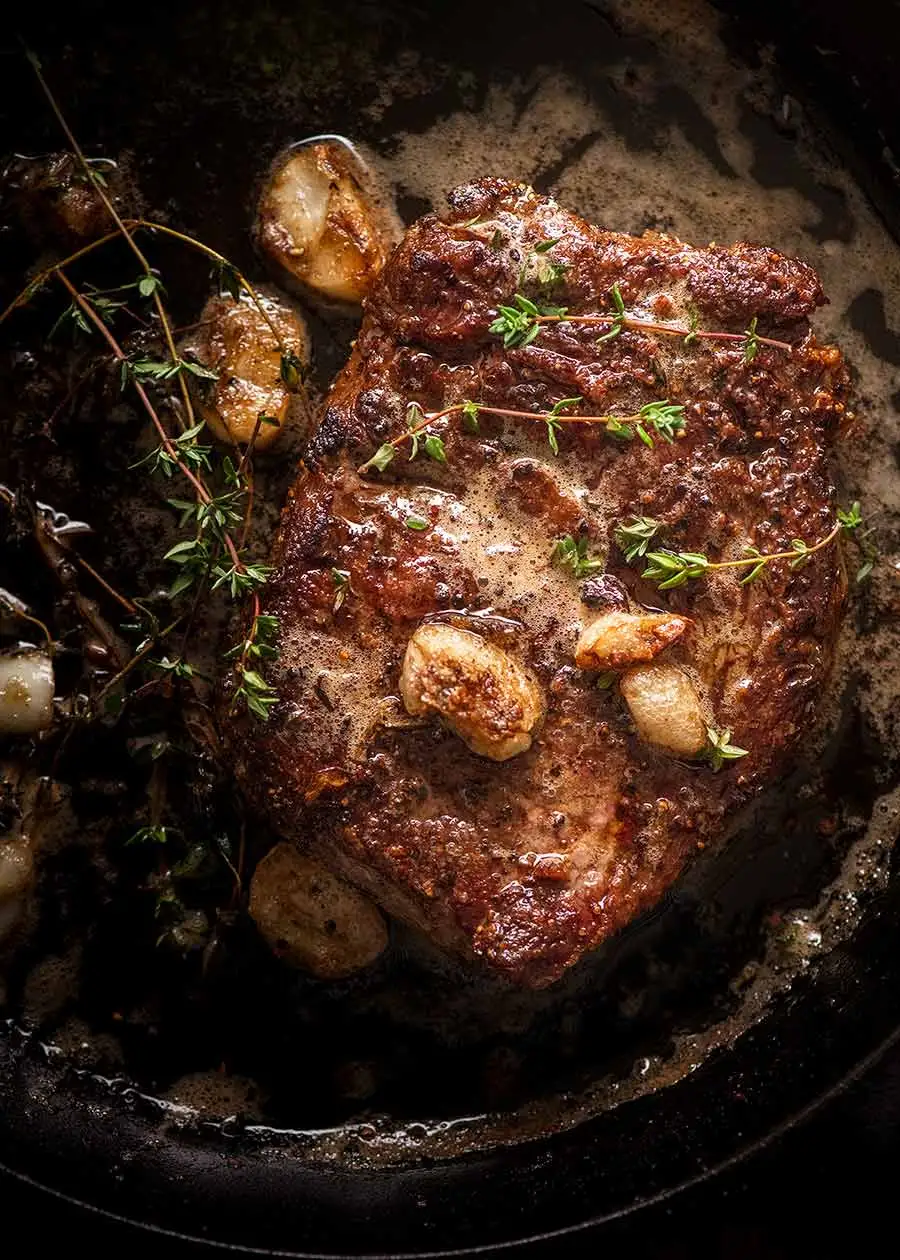 HOW TO COOK STEAK - A CHEVY WAY
Today's recipe is more of a technique than a recipe – but it's one that all steak lovers should know because it's easy, worthy of using on high quality steaks and also a way to really elevate economical steaks.
It's as simple as this: while the steak is searing in the pan, throw in butter, garlic and thyme and baste continuously as the steak finishes cooking. The garlic-thyme infused butter does all sorts of wonderful things to the steak, seeping into the cracks and crevices, and adhering to the crust of the steak.
It's pan seared steak made Outrageous – and that's Outrageous with a capital "O"!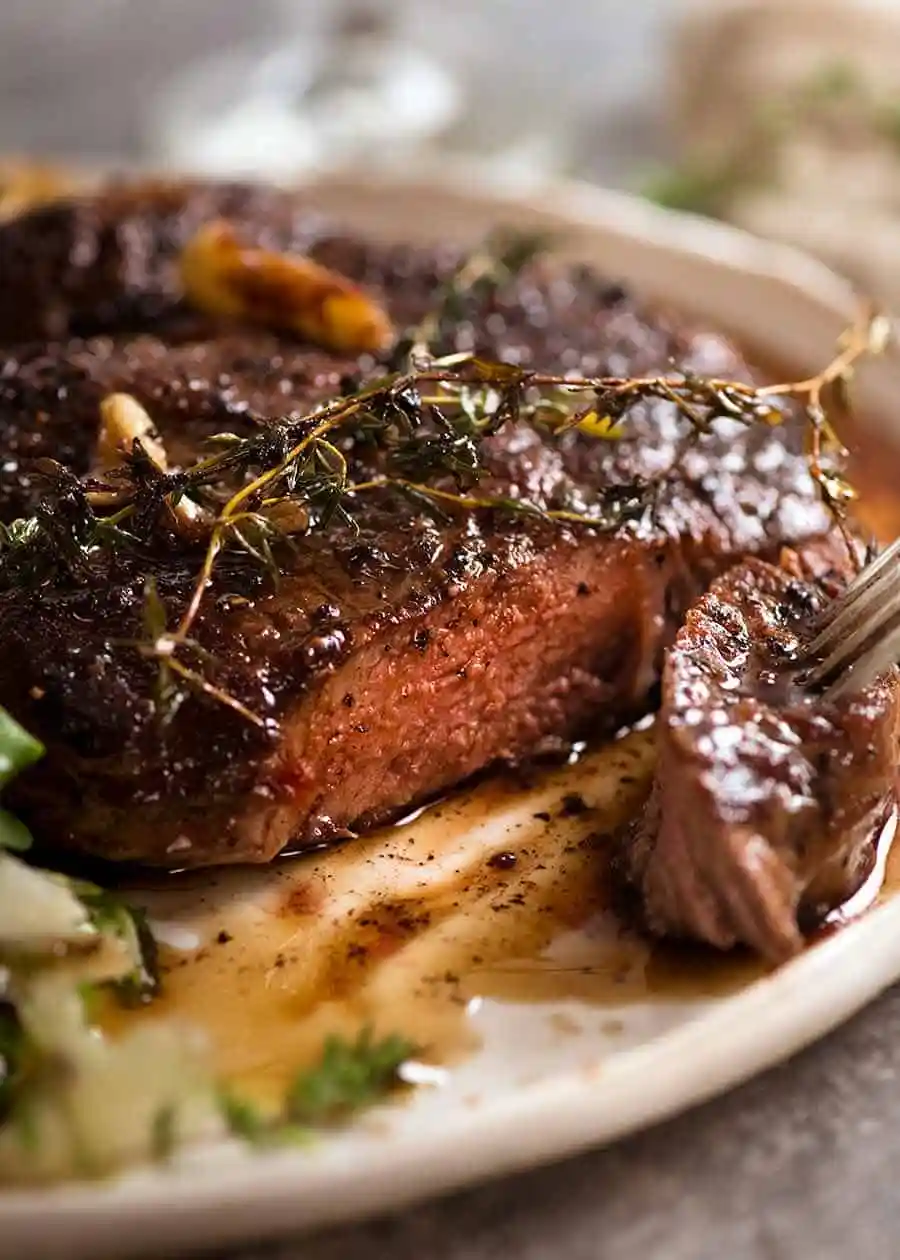 WHAT YOU NEED
Here's all you need:
Thickish cut steak – no more than 2.5cm/1″ thick, because we want to cook this entirely on the stove (thicker cuts need to be finished in the oven). Ideal steaks: boneless rib eye / scotch fillet, porterhouse / New York, T-bone. Grade: takes high quality steak over the top amazing, really elevates economical steak.
Butter, garlic and fresh thyme
QUICK STEAK COOKING TIPS!
Bring to room temp! This makes an amazing difference to cooking through evenly rather than ending up with a thick overcooked band in order for the very centre to be cooked to your liking;
Pat dry and season the steak generously with salt and pepper – this helps form that amazing crust we all know and love about great steaks;
Get your skillet SMOKING HOT before putting the steak in – again, for the crust
WARNING: The butter will sputter when you add the thyme, so stand back!
Take the steak off the stove BEFORE your desired internal temperature (see chart below) because the internal temperature will continue to rise as it rests; and
REST your steak for 5 to 10 minutes so it sucks its own juices back in and the fibres relax. This is a must-do step for any protein you cook hard and fast!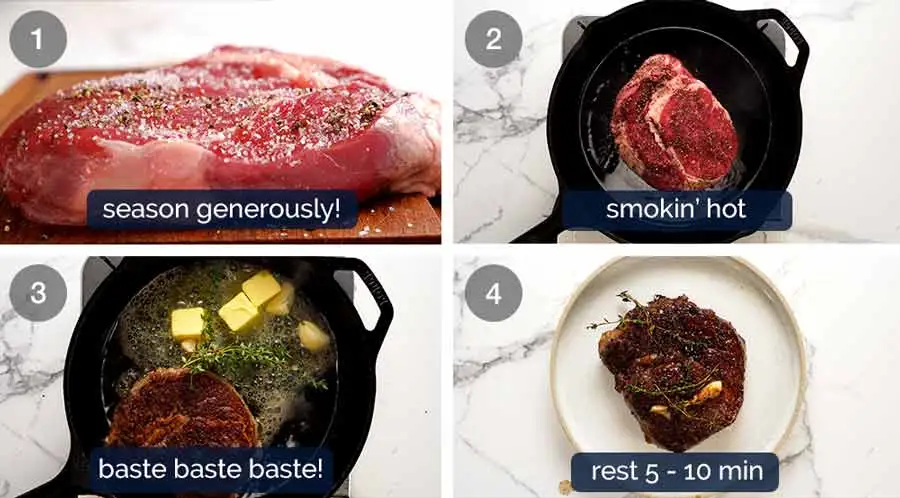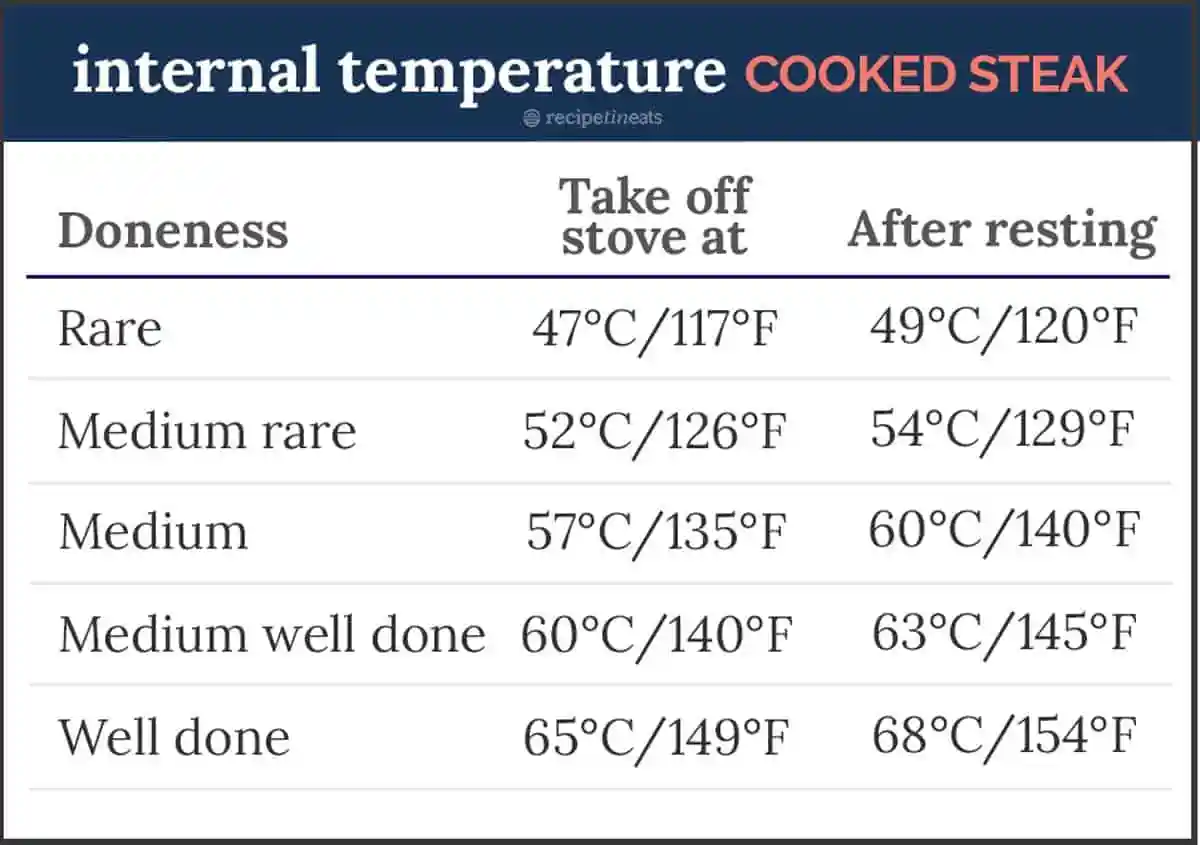 WHAT TO SERVE WITH STEAK
If you're after the full, luxury steakhouse experience, serve this steak with Béarnaise sauce, its mashed potato counterpart, Paris Mash, and a side of Garlic Sautéed Spinach.
For a low carb option, serve it with Creamy Mashed Cauliflower – you will be amazed how delicious this is with the help of some extra flavourings!! And a few more options:
Crispy Smashed Potatoes – pictured! I'm a little mad about these – they're crispy on the outside and fluffy on the inside;
Potato Dauphinoise – good make ahead option, and also if you're serving a group of people;
Sweet Potato Stack – something a little different!
Roasted Broccoli – this pairs really well with steak, plus you feel virtuous eating a load of broccoli with this rich buttery steak…
Brown Sugar Glazed Carrots or Parmesan Roasted Green Beans
Cauliflower Cheese – A British comfort food classic!
Fresh garden salad or steamed greens with French Vinaigrette or Italian Dressing
And for a really simple option, just steam a load of veggies and baby potatoes, then douse in the garlic butter left in the skillet. Pretty darn amazing!!